Materials with magnetic properties
There are a number of well-known materials that have demonstrable magnetic properties, including Nickel (Ni), Cobalt (Co), Neodymium (Nd), Samarium (Sm) and Iron (Fe), which are all ferromagnetic.

A common feature of ferromagnetic materials is that they comprise a very large number of small elementary magnets or magnetic domains.
Permanent magnets
External magnetic fields can move domain boundaries and turn entire domains, causing them to align and produce significant magnetic polarisation, with the result that the entire object acts as a magnet with a north and a south pole. A magnetised piece of one of these materials produces an external magnetic field after magnetisation and is called a permanent magnet.
Electromagnets
We differentiate between permanent magnets, which produce a constant magnetic field, and electromagnets, which only produce a field when they are exposed to an electric current. An electropermanent magnet combines both these properties.
Magnetisation: Charged with magnetism
The most common method of magnetising a magnet involves placing it inside a coil and using a capacitor discharge to create a powerful magnetic field that the magnet then retains. The resulting magnetism depends on, among other factors, shape, quality and type of magnetisation. North at one end (pole) and South at the other is the most common type of magnetisation. There are a number of different types of magnetisation, e.g. bipolar, diametrical, radial and multipolar.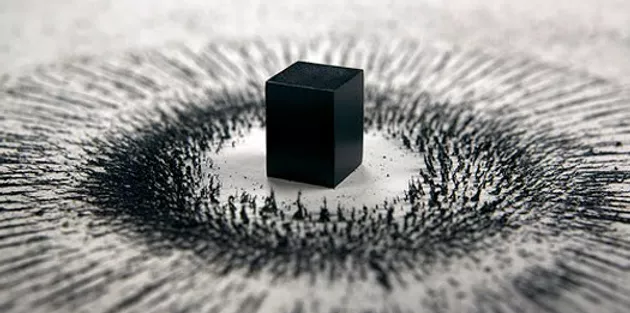 Facts
Neodymium magnets are strong magnets that retain their enormous force without notable weakening. This is irrespective of whether the magnet is being used to lift something for years at a time or not used at all. Generally, the force weakens at a rate of approx. 10% every 100 years.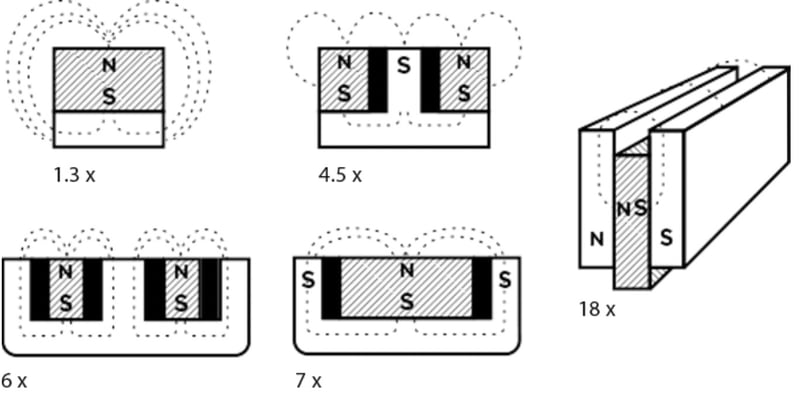 Turbocharged power
The same magnet but much stronger
Using iron and/or steel in combination with a magnet can enhance the magnetic force. This creates what is known as a magnetic system.

The illustrations give an idea of how much stronger the magnetic system is than if the magnet in the magnetic system were used on its own. Of course, the right design is necessary for this to work.

Remember that magnetic systems are very sensitive to air gaps!
The table contains some important magnetic terms from both the Gauss and SI systems. The Gauss system is still used for permanent magnets.

Please note that magnetic flux (Br), which can be found in the data sheets, is not the same as the value that can be measured at the surface of the magnet using a gaussmeter.

For example, a NdFeB magnet Ø20x10 mm with Br = 12,000 Gauss (as per spec.) produces a value of approx. 3,000 Gauss at the surface of the magnet.
1 T = 10,000 G (The Earth's magnetic field is approx. 0.5 Gauss)
1 kA/m = 12.57 Oe
1 kJ/m³ = 0.1257 MGOe
| | | | |
| --- | --- | --- | --- |
| Quantity | Symbol | Unit (Gauss) | Unit (SI) |
| Field strength | H | Oerstedt (Oe) | Ampere / meter (A/m) |
| Flux density | B | Gauss (G) | Tesla (T), Vs/m² |
| Magnetic flux | Φ | Maxwell (Mx) | Weber (Wb), Vs |
| Energy product | (BH)max | MGOe | J/m³ |